"Since 1924, Toastmasters International has been recognized as the leading organization dedicated to communication and leadership skill development. Through its worldwide network of clubs, each week Toastmasters helps more than a quarter million men and women of every ethnicity, education level and profession build their competence in communication so they can gain the confidence to lead others."
The vision of "Toastmasters International empowers people to achieve their full potential and realize their dreams. Through our member clubs, people throughout the world can improve their communication and leadership skills, and find the courage to change."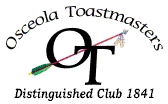 Osceola Toastmasters Club #1841 is an "open club", which means you are invited, and we would love to meet you! As per Toastmasters International directives, members must be at least 18 years of age.
We invite you to visit us at our next meeting on Friday if you would like to improve your communications and leadership skills in a friendly atmosphere. The dress code is casual, because it's Friday!
Tony Morelli
Osceola Club President
We meet at the Kissimmee Utility Authority
1701 West Carroll Street
Kissimmee, FL 34741
each Friday Morning from 7:30 am to 9:00 am.
Yes, we know that's early… but it's worth it!
Want a glimpse of our weekly club activities? Follow us on Facebook! And of course, "LIKE" us as well!